Despite the popularity of shea butter around the world, its traditional uses are being preserved. Shea has been used on the African continent and associated with it in the history and culture of the African savannah and forests of West Africa for centuries without pesticides or chemical fertilizers, and the mother passes on her experience to her daughter In the method of preparation and use, it spread and continued in this fame over the centuries for its unprecedented ability to protect and rejuvenate the skin, and it was mentioned in the documents of African history and was always related to African pharmacology. Her mention was also included by reference in the treatment of Cleopatra, who was fond of searching for experiences that increase beauty in the world at that time, as he mentioned that caravans carry pottery jars of shea butter for cosmetic purposes, and it is said that Queen Nefertiti, with her great beauty, used shea butter, and the carving of Funeral of family kings in wood from the ancient trees of shea butter known as Karité, the shea nut tree (butyrospermum parkii) is a common source of the nut tree from which shea butter is extracted, which grows in the western part of Africa, Ghana, Mali, Burkina Faso and other savannah areas in West Africa.
shea butter tree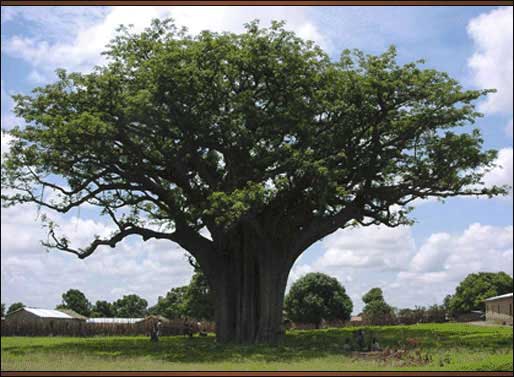 The shea butter tree is Karite (Ka Re - Tai), meaning the tree of life, and it produces its first fruits after about 20 years, and it produces a full crop after about 45 years, and it lives to about 300 years, and the maximum height it can reach is from 15 to 20 meters. Its trunk is up to a meter in diameter. It blooms during the period from June to July, and bears a dark green fruit resembling a green peach, the size of the fruit is approximately 3-6 cm, and contains seeds from which butter is made, numbering approximately 1-3 seeds, surrounded by a thin fragile peel, and it is of high content They are fatty acids, and fall to the ground when ripe, and these acids are what give butter its unique healing properties and makes it superior to cocoa butter and other vegetable butters. Walnuts contain 50% of the fat, and the fruit is made of walnuts with a white hard core and is the source of shea butter. It has been the custom for centuries in Ghana to hold a ceremony before collecting the fruits.
Different families in West Africa have passed on their experiences in making shea butter through the generations, and it is very similar to most families and this tradition has been practiced for centuries. The fatty and cracked fruits are collected, boiled in water for an hour until the nuts rise to the surface, roasted and ground to extract the butter However, despite the primitiveness of this work in the production of butter, there are still many effective ways to extract it, as there is no need to use chemicals to add to it, the fruit of the nut is natural.
Since the beauty companies attract the attention of their customers to the use of Shea butter through production lines and mixing it with other materials, and presenting many offers to customers and providing more options related to butter, but they should not be shaded as Shea butter is unparalleled.
Togo is the most famous shea butter country in Africa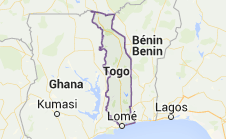 Shea Butter Culture:
Togo, a small town in West Africa, is famous for the production of shea butter, located between Ghana in the west, and Benin in the east, and in the Kaboli language it is called shea butter oyi and the shea tree eggi - oyi. The mission, as used in cosmetics, is also rooted in the ceremonial practices of the various ethnic groups in Togo.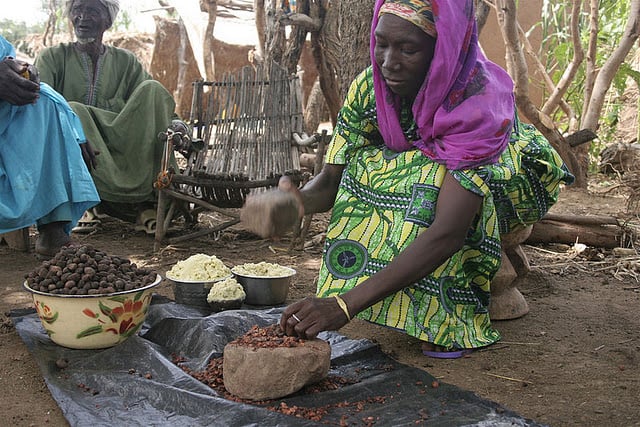 It is also used before the wedding ceremonies, the bride must rub her face with butter for a period of not less than three months before the wedding day to beautify her skin, and the groom uses shea butter to prepare for his wedding, and a group of herbs is mixed with it and the groom's chest is anointed with it to prepare for the groom's skin ritual -- Godja -- Where the father of the bride whips the groom 30 times on the chest to test how brave he will be in the future and how he will respect the marriage of their daughter.
If the groom shows signs of weakness during the ritual, the wife's parents can refuse to accept the marriage, or postpone it and wait until next year to try again. This ritual leaves serious bruises and wounds on the groom's chest, and shea butter mixed with wild honey is applied to speed up healing.
The reader should not think of these rituals as primitive. The main idea of this Godja ritual is not to test the sincerity of the man's potential and deserving of the bride and that he is willing to endure physical pain for her, but rather a way of showing the bride's parents that she will be safe and that he will do what he needs to protect her.
Shea butter is also part of the everyday culture in Togo, people in the Okalakun Plateau use the by-products of making shea butter in their homes. The light red water collected after the shea oil is removed is mixed with the clay to form bricks. The people of this area believe that ants do not like the smell of shea water, so they use it to repel them from the house. This method is a very effective prevention, and it is adopted throughout central and northern Togo. It is especially used to make granaries for storing corn, millet and potatoes, which are highly susceptible to termites.
This red liquid, which is produced after collecting shea oil, has other technical uses, as it is soaked for 3 weeks or more. Until the water becomes concentrated into a thick red paste. The paste is mixed with shea clay and applied to floors and walls to make it look attractive. Shea paste is also used to draw shapes and ornaments on walls. This natural paint is made from the production of the remnants of the Shea butter industry. The process is very economical, because the industrial paint is very expensive and is chemically compounded. Dear reader, you know the dangers of chemicals.
Making Shea Butter is a way of life for women in Togo, the manufacturing process gives women the opportunity to mingle, talk about family issues and receive consultation from each other. The making of shea butter is almost entirely the work of a woman, so that she does not stop to talk about her family's situation, and shea butter is also a collective work. For example 3-6 women harvest the fruit at the same time. This work is very tiring, and this helps in the passage of time by working together and singing or discussing family issues.
Moreover, shea butter can be made to provide women with economic and social stability and economic equality within family enterprises. Women make shea butter and bring it to local markets for sale. This money is then used to purchase items, household items, food, textbooks, and other essential items. Throughout Togo, women who do not have to rely solely on their husbands for economic income are freer than those who do.
How does hair benefit from shea butter?
Shea Butter provides moisture to dry or damaged hair at the root, repairing and protecting against weather damage and dehydration. It also absorbs quickly and completely into the scalp without clogging the pores. It is especially effective and useful for treating hair against heat. It is an excellent remedy for dry scalp. It restores luster to hair that has suffered any kind of damage.
How to use :
Take a large enough amount of shea butter directly in your hands without gloves, so the heat of your hands can melt it, and the required amount varies according to the length and density of the hair, and you can initially try an amount of three tablespoons as a base, and we do not recommend melting it by microwave or exposing it to temperatures, it is It has very low melting points and will melt very quickly and become hot and you will hurt yourself with it. It also loses some of its important properties when exposed to temperatures. After you have taken enough butter in your hands, you massage the scalp until you feel that it has covered all the hair and scalp (make sure Massage well to make this coverage), then you wrap the hair with a towel and allow the hair and skin of the head to absorb the butter for thirty minutes, and then you stretch the hair and wash the hair and scalp with shampoo, and a hair comb can be used in that.
It is preferable after washing the hair from the effects of butter for ten minutes that the hair is wiped with a small amount of butter to give it an additional luster, and you will notice, God willing, the hair's luster and health immediately after use, and this luster and health will continue for more than three days.
brother way
The scalp and hair are painted with direct massage through an appropriate amount of shea butter or natural shea oil, then wrap the hair with a plastic wrap or a plastic shower cap for ten minutes, then with a relatively hot towel for 30 minutes, and rinse the hair, and you will notice the softness and smoothness of the hair, in addition Therefore, this process helps the natural growth of hair, and this treatment is recommended at least twice a week on the hair and scalp to get the best results.
How is shea butter manufactured?
This process consists of several stages, and takes place between the months of May and July before the beginning of the rainy season. It is a participatory process that bears the character and social characteristics of the collective and in a traditional manner, and this is done by the women of the family and the men have no role in this work except for some marketing roles in the end.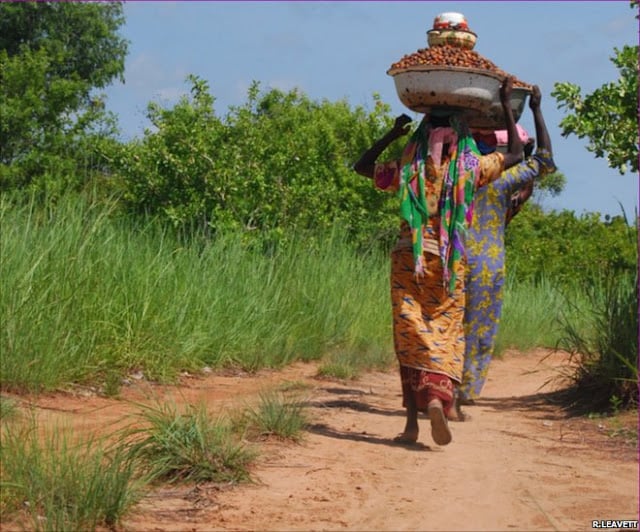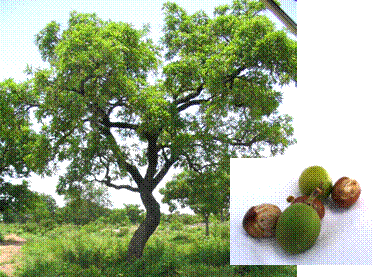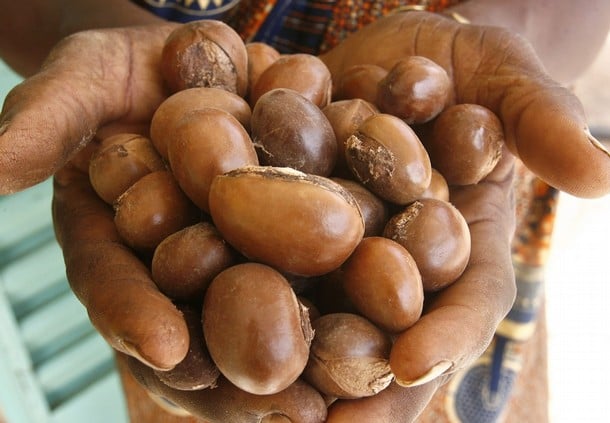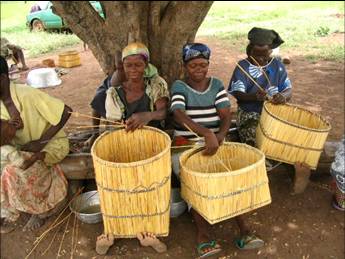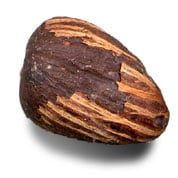 The process begins with collecting walnuts or shea nuts from trees, and drying them under the sun for 3-5 days.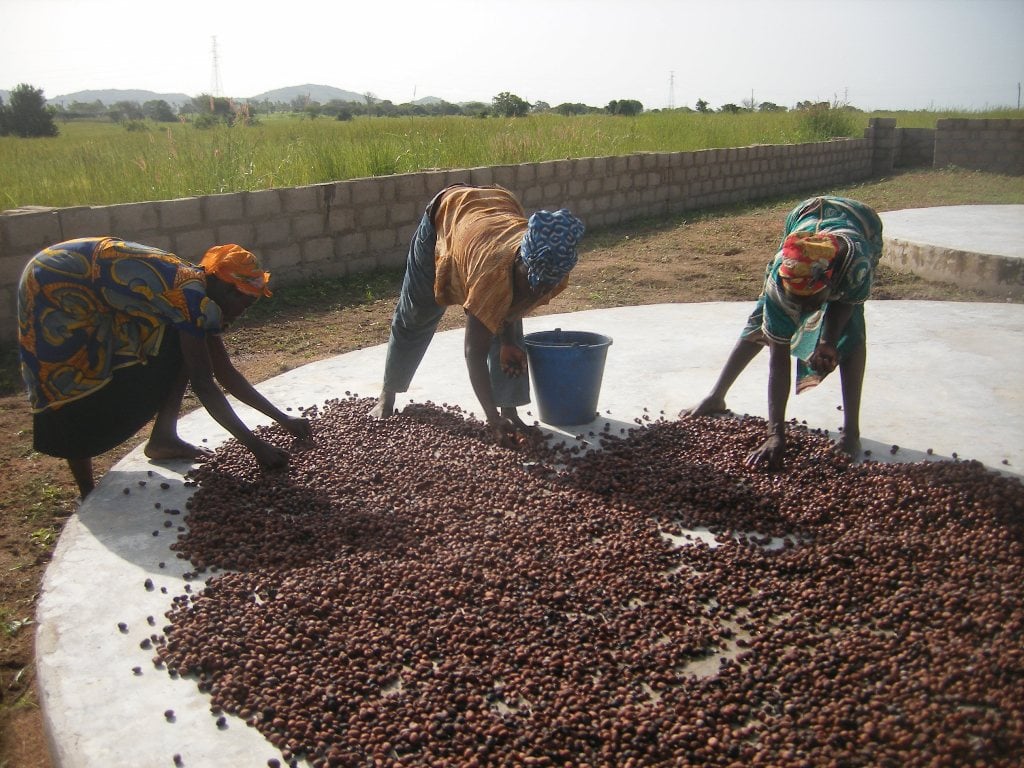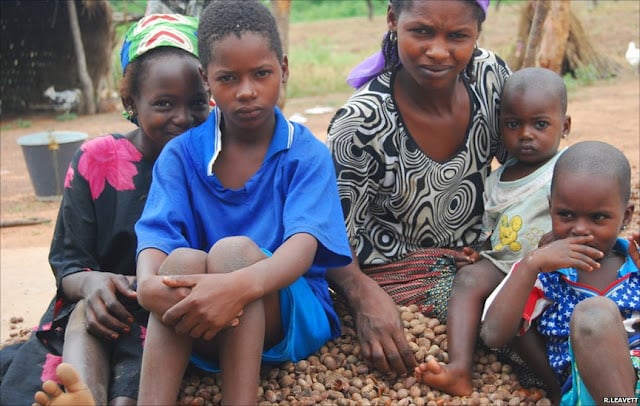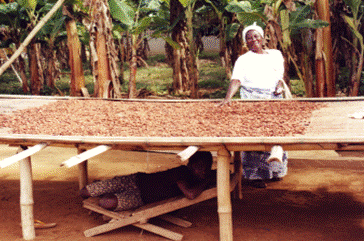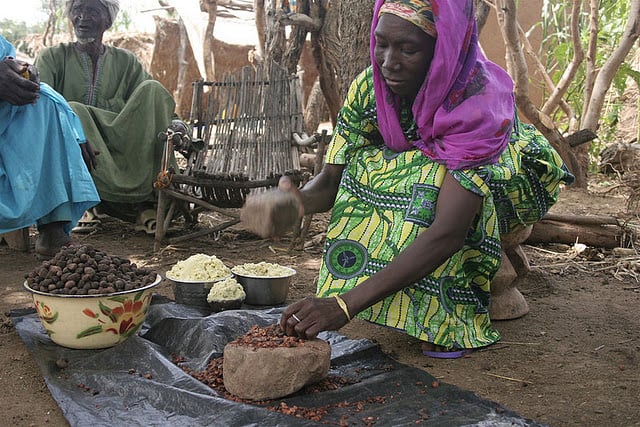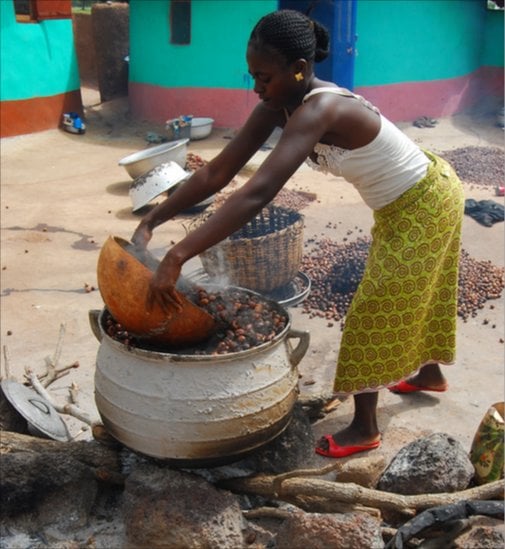 Then the peel is separated from the outer core of the fruit, by cracking these nuts and for this matter there are two methods, either crushing with small stones or by steaming often (every family does in a different way from the other in the manufacturing process), and separating the nut shell from the inner content and this is the real hard work for production.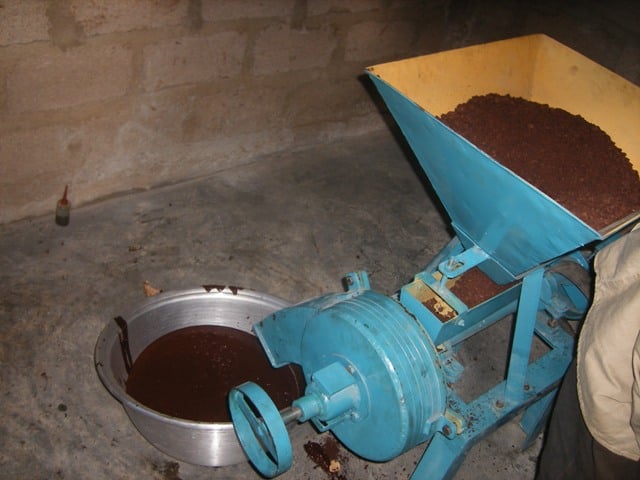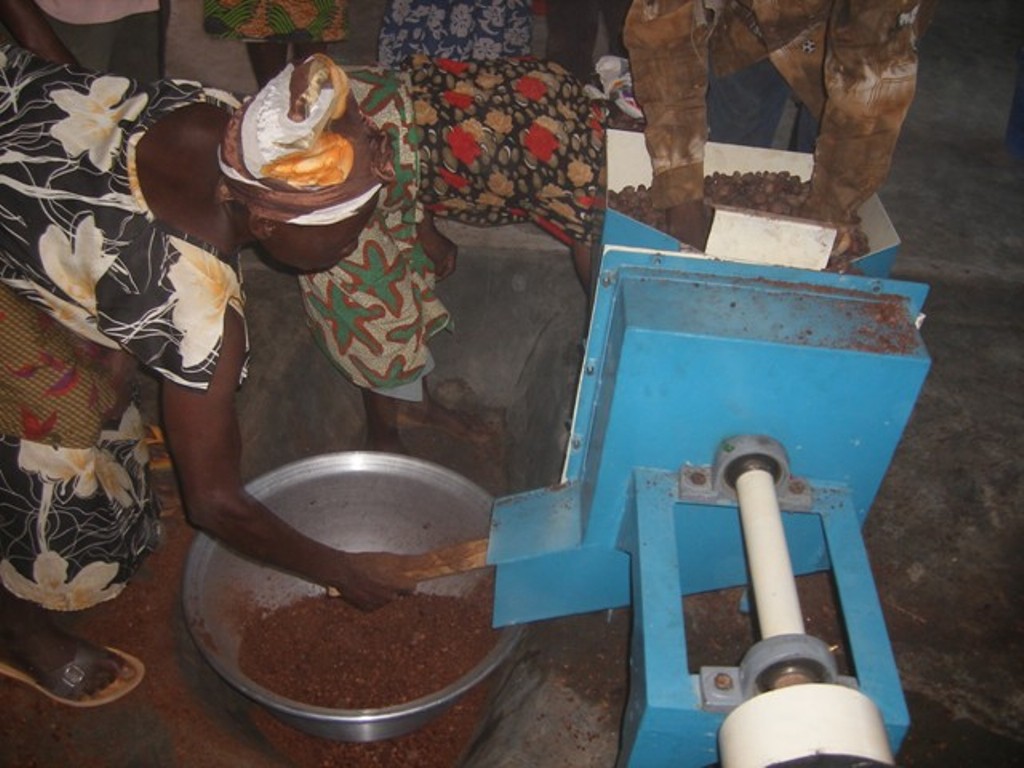 Then crush and grind the grain by the traditional means of grinding by raising the milling mortar made of clay, stone or wood high and lowering it by hand, so that the product becomes as fine as flour, and this process can take an hour and its hard and primitive work, and some families (who have the financial capabilities) have electric machines for grinding grain
Then comes the roasting process
Where the fire is lit using wood, using walnut shells, and clarifying the product in the previous step in large pots, stirring constantly with wooden paddles to prevent burning of the powder, until it forms roasted grains that look like brown soil, and this process is very laborious due to the heat of the fire and the heat of the atmosphere under the sun's rays The scorching, smoke of these fires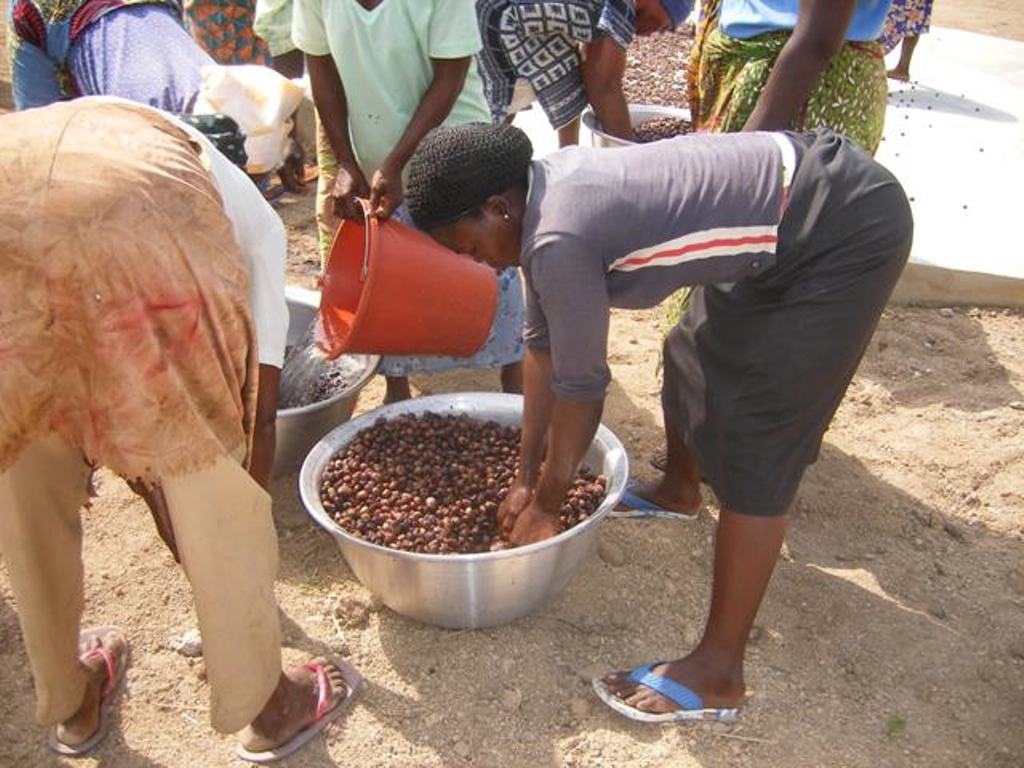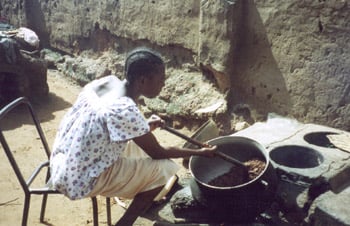 Grinding: These roasted nuts begin in a relatively smooth consistency, and are transferred to very large pots, and water is gradually added to them, and the dough is mixed and blended well by hand.
The water helps separate the shea oil from the butter, so the oil rises above the water and is transferred along with the excess water and placed in pots over a low heat to obtain the pure shea oil product.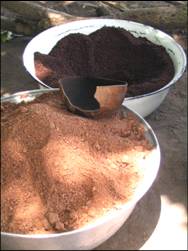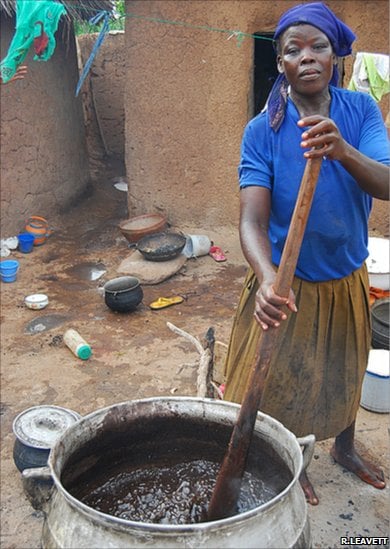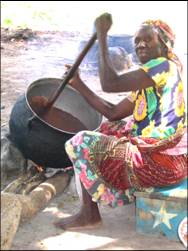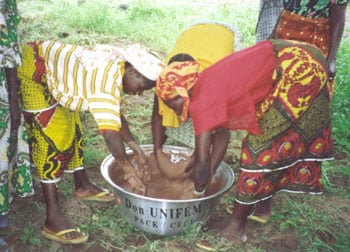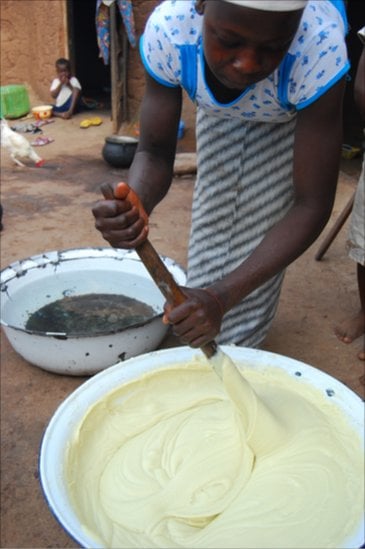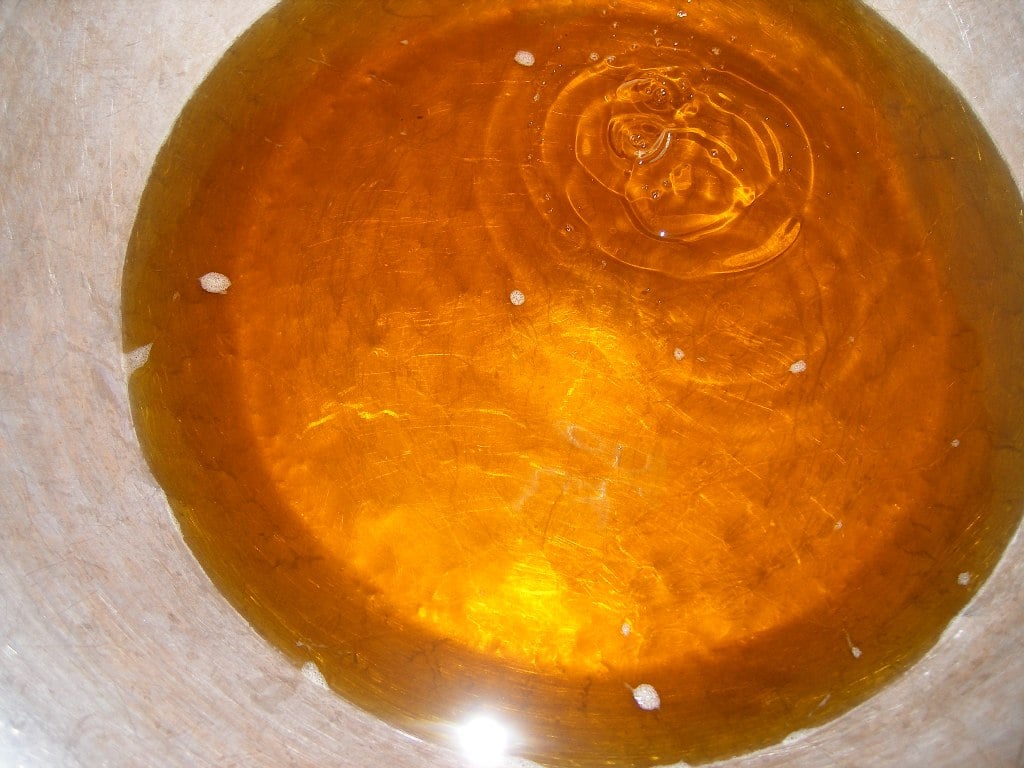 And the excess water is separated from the shea butter by its natural evaporation by exposing it to sunlight.
Finally, the resulting butter is collected and formed into large balls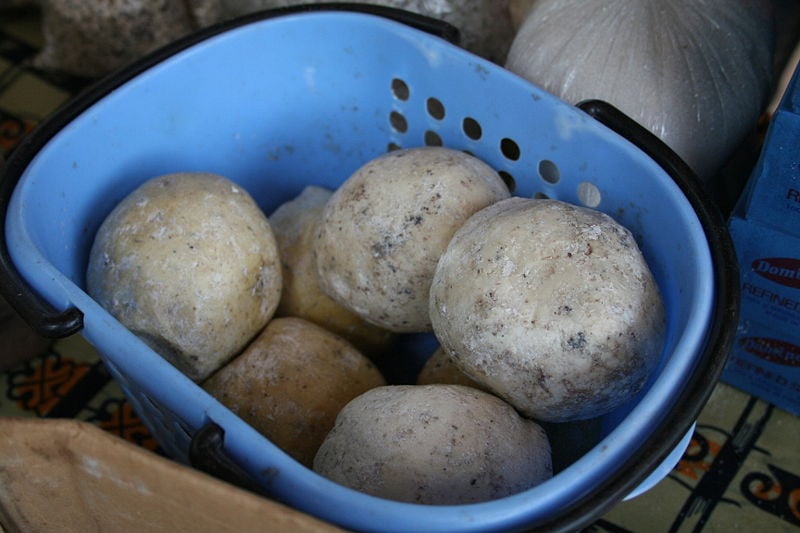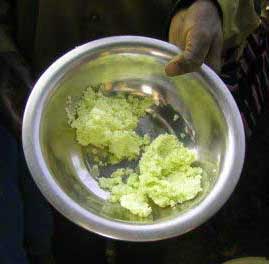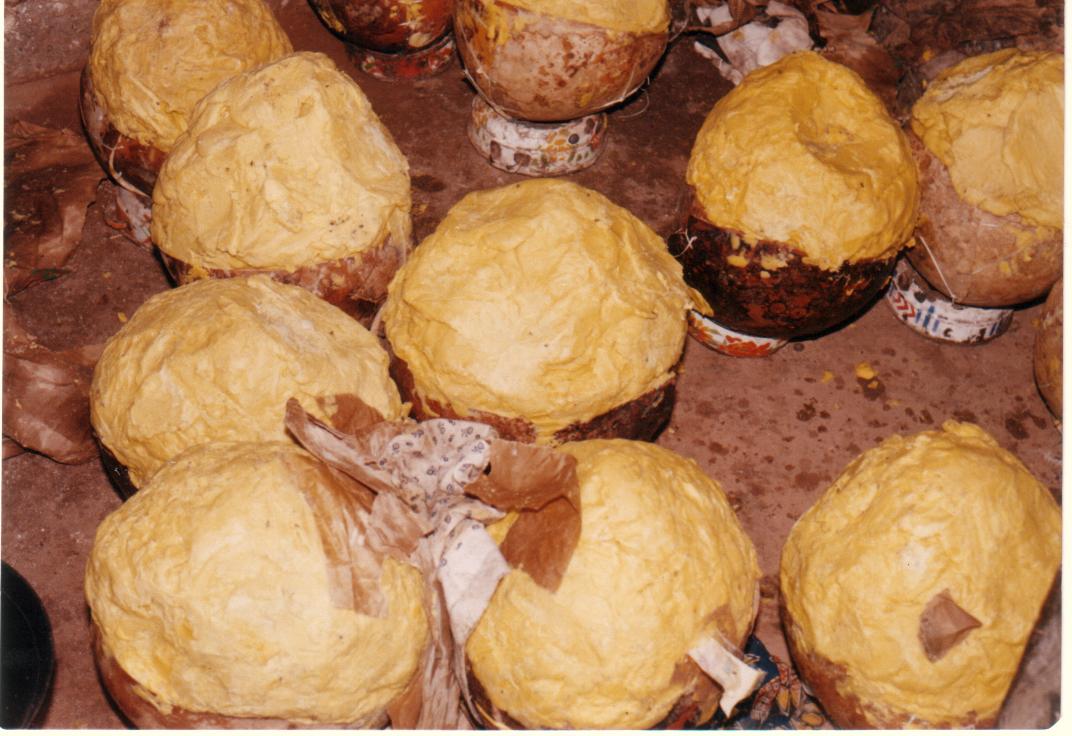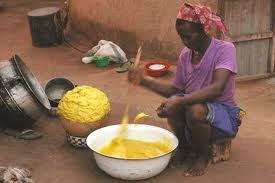 It is stored in shaded places to harden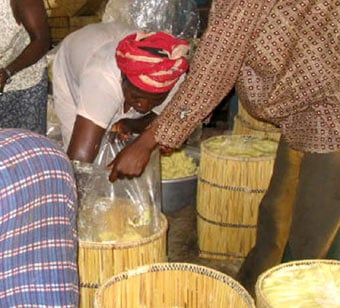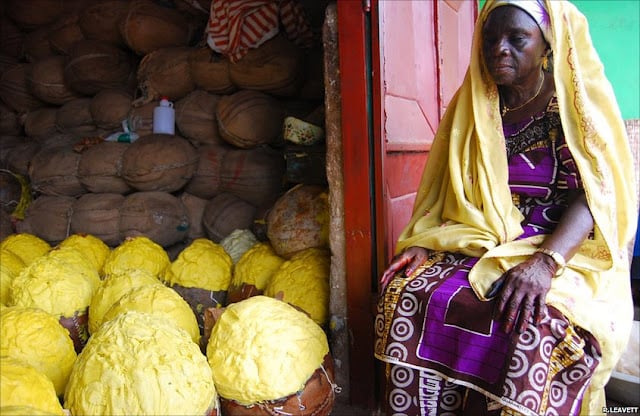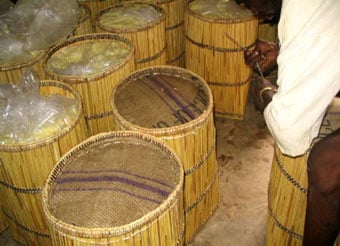 Ready to ship the product to canning or refining factories.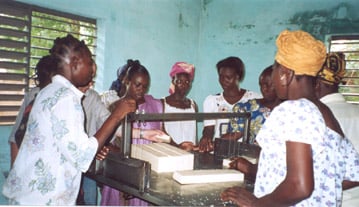 How to use shea butter for the body
Upon contact with the hand, it will melt due to body heat
No need to heat it at all
The area is massaged for 3 to 5 minutes
The smell of shea is strong by nature
Can be used a quarter of an hour before leaving the house
It is recommended to use it at least twice daily
It should be left for an appropriate period before washing the area
So that it can be absorbed by the skin and the skin
It should not be left in a damp place, as it is a natural product that will be affected
The room temperature is sufficient for it, so there is no need to put it in refrigeration
Shea butter shelf life and preservation
Shea butter does not have an expiration date, but it depends on good storage, as it is without additives and 100% natural,
However, most manufacturers put an expiration date between 2 and 3 years
And when it is converted to another product through operations or additions,
This is necessary to determine the validity of the new product.
It does not need a special method of storage, it can be kept in the room atmosphere between 20 degrees Celsius and 25 degrees,
And away from wet areas such as the bathroom or shower places
Shea Butter Health Care
Shea butter is used for healing and health care is not available in Togo. The use of shea butter on the skin begins at birth and continues for life. In addition to generally creaming the skin, shea butter is also used in specific conditions. At the time of drought and storms in the summer in central and northern Togo, where the skin dries and bleeds easily. They are used for traditional medicine and to help heal and prevent chapped skin. It is also used by mothers to help children born during this season in keeping the umbilical cord from drying out and bleeding and its effects appear very quickly. Sprains, insect stings and broken bones. For generations, people in Togo have believed that shea butter has anti-inflammatory benefits, and the truth of these benefits is now being demonstrated through clinical trials. It is also used in soap making, where it is a key ingredient in traditional soap making
original shea butter
It is the one that did not withdraw the active substances in it, and it was not added to it
Chemicals or mixtures that increase the basic amount..
White butter.. it's called second grade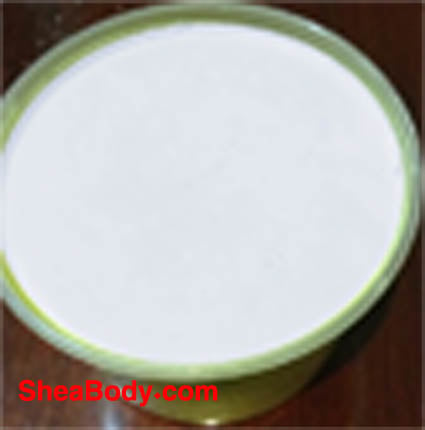 It is a cosmetic company's product that is left over from butter after withdrawing the materials
Effective, and he has his customers who want him..
And if it smells good,
Like the smell of vinegar or vanilla, it does not work at all!!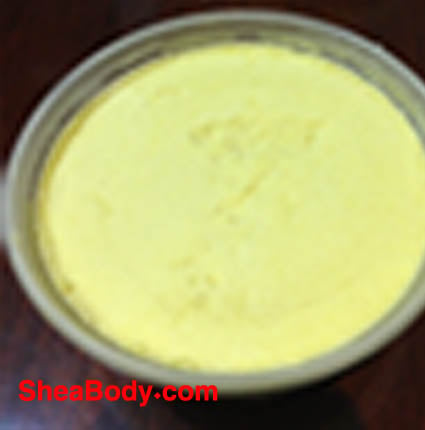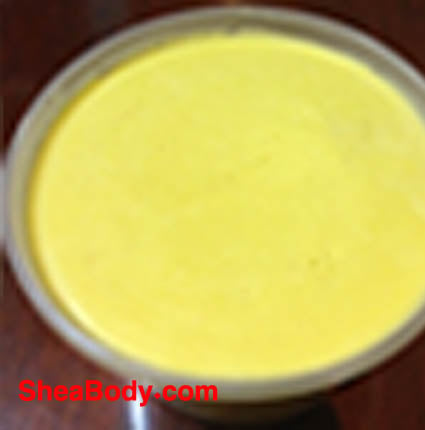 Orange, yellow, or grayish-yellow butter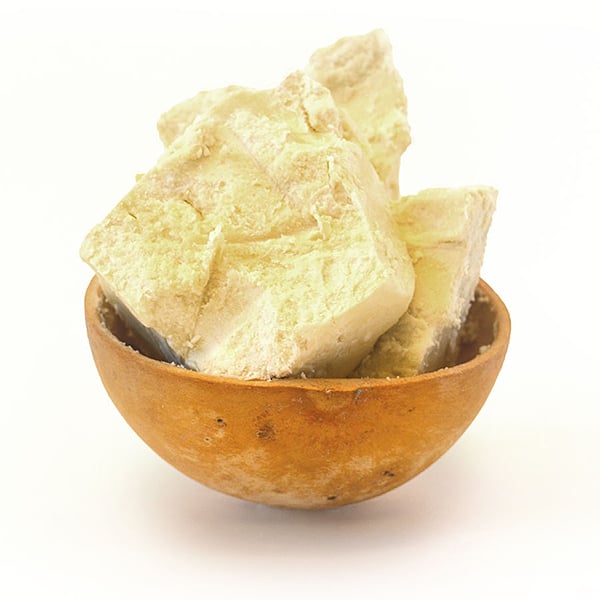 It is called primarily, and it is raw butter to which no ingredients or mixtures have been added except for the root of the borututu tree is added in the grinding process, which gives it a yellow color and is said to help improve liver functions and is characterized by its strong natural smell and similar to the smell of walnuts, and we note small shells of shea nuts in The box is also mixed by some with the famous yellow Kpangyan butter for care
Hair .. But cheating in adding unknown substances to increase the quantity, such as palm oil or cheap vegetable butter and saturated oils, must be checked from the source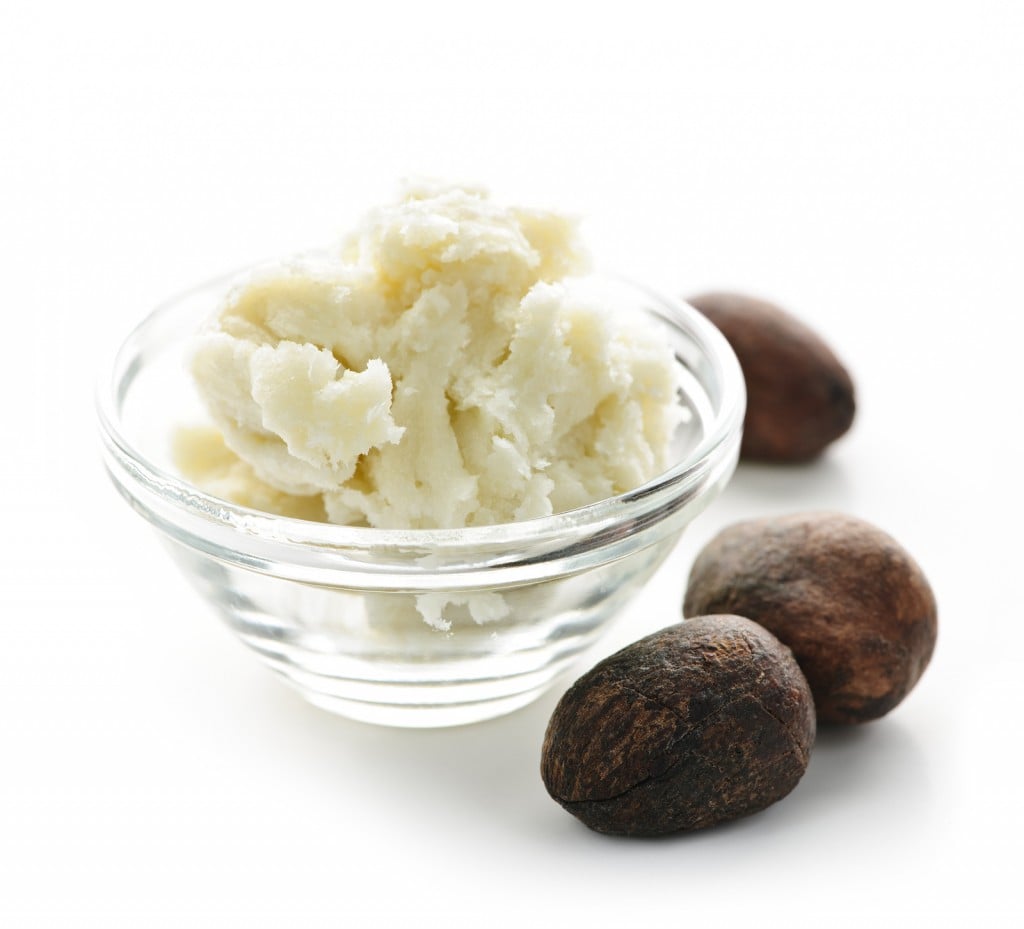 Ivory butter
It is also first class except that the roots of the borututu tree are not added
Its color is ivory close to white, and its odor is lighter than yellow
How to use shea butter for hair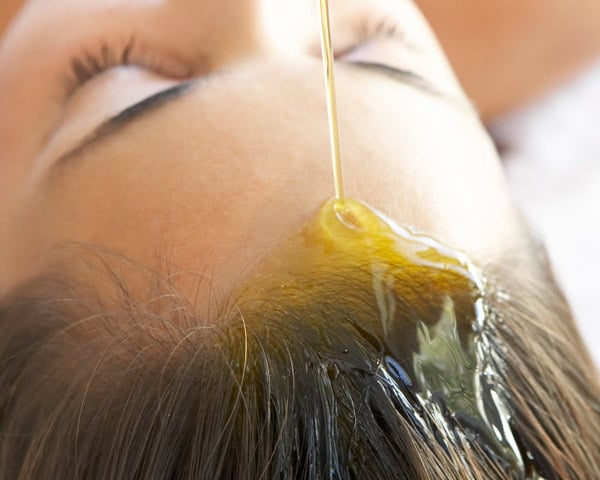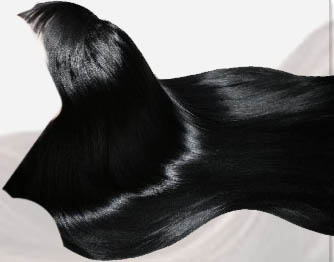 hair moisturizer
Gives hair vitality, softness and extra softness
Promotes hair growth, lengthening and health
Gives you protection against weather factors that damage your hair
Protects the scalp from drying out, which in turn causes
Hair loss
Revitalizes and protects hair from split ends
Nourishes hair roots and provides them with vitamins and minerals
necessary for its growth
Makes hair easy to style
Safe for daily use
The mixture is simple
We choose a suitable natural oil such as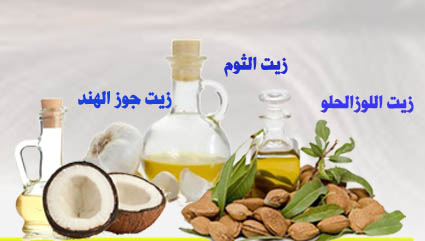 And we mix it with natural shea butter in an amount that suits our use at that moment
Heat the mixture for just a few moments until the butter melts
Then beat with a mixer
Then it is distributed on the scalp
It is preferable to use a comb to enable it to reach the roots of the hair follicles
Passing through all the hair strands to its ends
It is preferable to wear a cotton oil hat
Then relax and wait for one to two hours
Then the hair is washed with a natural shampoo
Repeat the process twice a week until we see the hair shine and the required nutrition
It is used every one to two weeks
After hair and scalp treatment
Caution before purchasing any product
He warns against using shea butter, cocoa butter, aloe vera and avocado
For those who are allergic to walnuts, they are derived from a natural product of walnuts.
Those allergic to latex should avoid using Shea Butter and products containing this ingredient!
Inedible chia products!!